Tum Mujhme Priya! Phir Parichay Kyaa!
tum mujhamen priy! phir parichay kyaa
taarak men chhavi, praaNon men smRti,
palakon men neerav pad kee gati,
laghu ur men pulakon kee sansRti,
           bhar laaee hoo(n) teree chanchal
           aur karoo(n) jag men sanchay kyaa!

teraa mukh sahaas aruNoday,
parachhaaee rajanee viShaadamay,
vah jaagRti vah neend svapnamay,
           khelakhel thakathak sone de
           main samajhoo(n)gee sRShTi pralay kyaa!

teraa adharavichunbit pyaalaa
teree hee smitamishrit haalaa,
teraa hee maanas madhushaalaa,
           phir poochhoo(n) kyaa mere saakee!
           dete ho madhumay viShamay kyaa?

romarom men nandan pulakit,
saa(n)sasaa(n)s men jeevan shatashat,
svapn svapn men vishv aparichit,
           mujhamen nit banate miTate priy!
           svarg mujhe kyaa niShkriy lay kyaa?

haaroo(n) to khooo(n) apanaapan
paaoo(n) priyatam men nirvaasan,
jeet banoo(n) teraa hee bandhan
           bhar laaoo(n) seepee men saagar
           priy meree ab haar vijay kyaa?

chitrit too main hoo(n) rekhaakram,
madhur raag too main svar sangam,
too aseem main seemaa kaa bhram,
           kaayaa chhaayaa men rahasyamay.
           preyasi priyatam kaa abhinay kyaa
tum mujhamen priy! phir parichay kyaa


Donate
A peaceful house of the beauty and solace of Hindi poetry, free from the noise of advertisements... to keep Kaavyaalaya like this, please donate.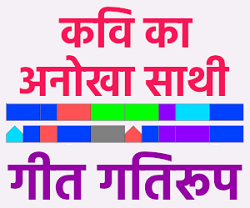 वो मेरी जिंदगी में कुछ इस तरह मिले
जैसे छोटी सी छत पर कोई बड़ी पतंग गिरे।
बारहा अब यही डर सताता रहता है के
वक़्त का शैतान बच्चा मुझसे इसे छीन न ले।
~
विनीत मिश्रा