Gahraa Aangan
is pal kaa yah gaharaa aa(n)gan
isamen too spandit hai saajan.
nayanaalokit smRtiyon se hain
man bharapoor preet se paavan.

dooShit vishv pavan ho paavan
jag ko arpit yah premaa(n)gan.
tanahaaee jo man chhaae -
too manameet hameshaa saajan.
नयनालोकित: नयन + आलोकित: रोशनी से भरी आँखें
काव्यालय को प्राप्त: 29 Nov 2014. काव्यालय पर प्रकाशित: 5 Apr 2018

Donate
A peaceful house of the beauty and solace of Hindi poetry, free from the noise of advertisements... to keep Kaavyaalaya like this, please donate.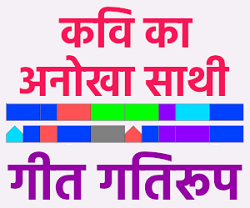 वो मेरी जिंदगी में कुछ इस तरह मिले
जैसे छोटी सी छत पर कोई बड़ी पतंग गिरे।
बारहा अब यही डर सताता रहता है के
वक़्त का शैतान बच्चा मुझसे इसे छीन न ले।
~
विनीत मिश्रा