Adhooree Saadhanaa
priyatam mere,
sab bhinn bhinn bunate hain
guladaston ko,
bhaavanaaon se,
vichaaron se.
main tumhe bunoo(n)
apanee saa(n)son se.
bhaavanaayen sthir ho jaae(n),
vichaaradhaaraa bhee,
honTh bhee maun rahe -
aur har shvaas
nit tumhaaraa naam kahe -
aur tum bunate raho.

ek ghaḌee aaegee phir
meree band palakon ke sammukh
tum niraakaar saakaar hoge.
tum baa(n)hon men apanee,
meree saa(n)son ko sameT loge.
phir n hogaa milanaa,
n bichhaḌanaa, n janm-maraN,
n main.
sirph tum mere priyatam -
apanaa svaroop paakar -
anant.


Donate
A peaceful house of the beauty and solace of Hindi poetry, free from the noise of advertisements... to keep Kaavyaalaya like this, please donate.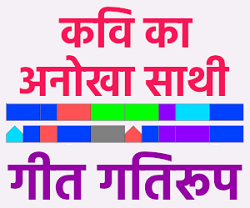 This Month :
'Paawas Geet'
Prabhaat Kumar Tyagee
pul baarish kaa!
binaa oḌhanee havaa ghoomatee
sabane dekhaa
pul baarish kaa!

meghon se dharatee tak
dhaanakhetee seeḌhiyaa(n),
miTTee men ug raheen
naee haree peeḌhiyaa(n),
            uḌatee huee nadee par
            banatee miTatee naukaa,
            pul baarish kaa!

..
Read and listen here...
डूब कर देखो ये है गंगा गणित विज्ञान की।
ये परम आनंद है वाणी स्वयं भगवान की।
~
विनोद तिवारी